Welcome to Rainbows Class
Class Teacher : Miss Howland
Teaching Assistant : Miss Martin and Mrs Storey
Come and take a look around our learning environment !
You will find on this page all the information and exciting learning taking place in our year group.
PE/Games
PE is on Mondays. We will require a full PE kit which consists of plimsolls, a blue T-shirt and blue shorts or joggers/leggings.
Forest school & Outdoor learning
Forest school days are Thursday afternoons.
Please provide your child with a pair of wellies to keep at school.
Homework
Please read with your child every day for at least 10 minutes. Discuss the pictures and ask questions about the characters or what they think might happen at the end.
Homework is sent home every Thursday and needs to be returned by the following Tuesday. Remember to check your child's home learning folder in their book bag for any important letters.
Useful links:
http://www.phonicsplay.co.uk/freeIndex.htm - Phonics games
http://www.bbc.co.uk/cbeebies/stories - cbeebies stories and rhymes
http://www.ictgames.com/ -Excellent maths & literacy resources
http://www.crickweb.co.uk/Early-Years.html - Lots of maths & literacy games
http://www.topmarks.co.uk/Search.aspx?Subject=37 - Games to support all areas of learning
People who help us- Making our Christmas cards and posting them in the 'real' post box to arrive at our homes!
Our Learning Environment Term 2
Christmas has arrived in Rainbows with the addition of our post office and we have been learning what it's like to be a postal worker! Take a look at our amazing learning.
Term 2 - People who help us. We have found out what it's like to be fire fighter, a doctor and a police officer. We have built a fire engine, put out our own fires, made our friends better in our hospital. We've practised our counting skills and number recognition by playing the emergency vehicle parking game and made emergency vehicles using tools and vegetables.
Phonics Time- Rainbows Class are amazing at quick writing the phonemes s,a,t,p,i,n.
Forest School - Matching Autumn leaves to colour charts - This was great fun trying to find a leaf of every colour!
This Term we have started doing Mighty Muscles Time to develop our gross and fine motor skills for writing.
Term 2 - Revisiting 'The Little Red Hen' and learning about the Festival of Light, Diwali !
Some of our amazing learning from Term 1.
Hello Rainbows Class! This is our class bear called Rainbow. He's a little shy but I'm sure you will help him grow in confidence and become firm friends. He enjoys learning, exploring and finding out too!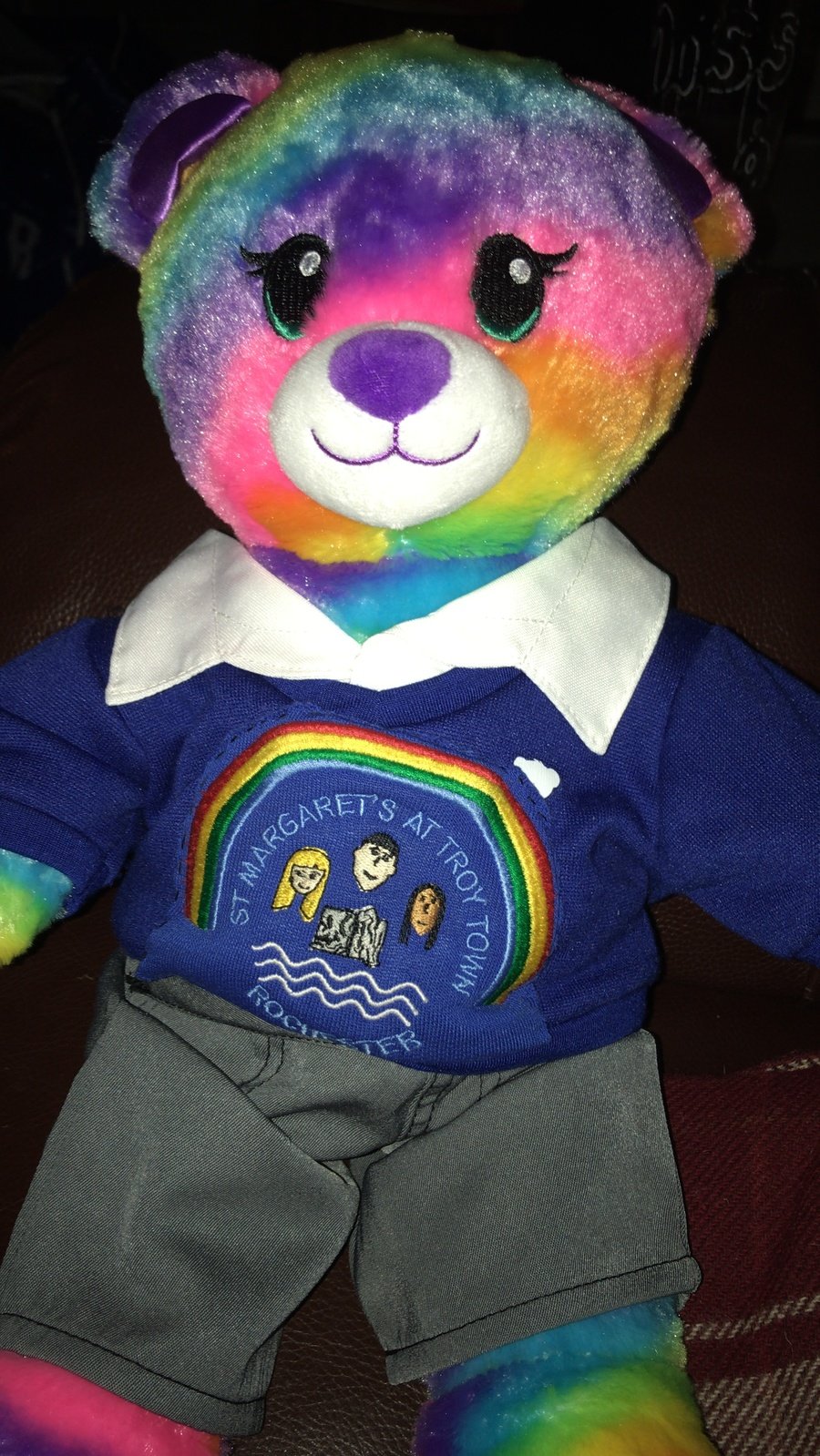 Here is just some of the amazing learning through play the children have been doing!
Loose Parts Play - The children have been displaying their creativity through using these...
Writing Patterns to develop our letter formation skills.
Forest School - Leaf printing with calico and tools. Using leaves that we found in the wild area we used the tools to make perfect prints of them.