We

l

c

o

m

e

t

o

t

h

e

R

a

i

n

b

o

w

s
'

Instilling curiosity and creative thinking that allows each child the freedom to venture beyond the known'
Inside every child there is a rainbow waiting to shine!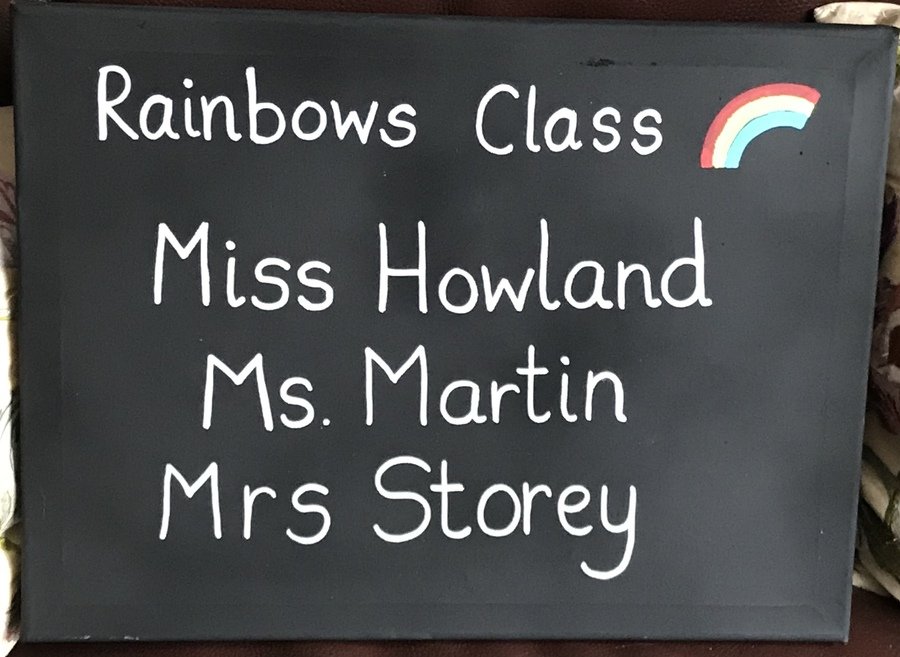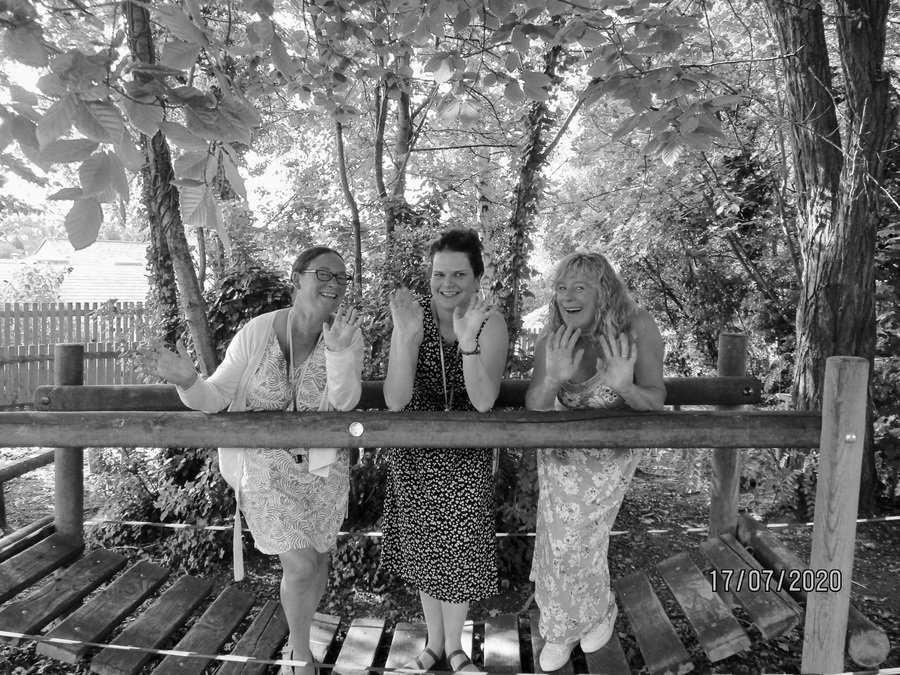 Hello Rainbows! Here are some of our learning adventures so far...
Term 6 Learning- Exploring and investigating using different senses. Making our own potions and medicines from lemons, limes, oranges and herbs. We gave them fantastic names too! The smell was amazing!
Forest School - Using tools safely to make wands that then evolved into pencils!
Exploring weight and the different language around this. Also, constructing and story telling around our Pirate Ship! I think the flag pole is fabulous and the little boats with the oars are ingenious !
This learning is fantastic! After listening to a song during Worship the children or as they call themselves "The Crew" assembled a band, a choir or singers and several dancers!
Term 5 - Over the last few weeks we have been curious and exploring the world of subtraction and addition. We loved the Hungry Caterpillar 'taking away' game. Here is just some of our learning and written representations of the calculations.
Our wonderful display around our interest of mini beasts.
Forest School fun- Creating our own woodland creatures...we had unicorns, hedgehogs and even a dinosaur!
Term 4 - We are back!!!! Amazing mighty muscles shown in activities, problem solving, writing and building camper vans for our role play adventures.
Model making, planting seeds and learning about how and what they need to grow, and practising our segmenting in phonics! We have been so busy we haven't stopped!
Red Nose Day nose and spoon race. Learning about the Easter story, retelling the story by making Easter gardens and remembering Jesus making hot cross buns.
Term 4 - Learning and exploring different ways to make 9 and 10 in our number work, writing letters to our family and friends, applying our phonics we have learnt to read and write.
Look at our fantastic writing about planting seeds and our understanding of how they grow. Well done Rainbows!
Term 3 - We have been so busy learning about the coldest places in the world, the season of winter, exploring ice and building a 'Room on a broom' as a team. We've also been working on our number skills of addition, finding different ways to make numbers, applying our phonics to read and write words and sentences. Furthermore, we have searched our environment to find shapes and have begun to talk about properties of an object. Phew, we have worked very hard!
Having read the story of Goldilocks and the three bear and through our 'Mighty Muscle' fine motor activity we decided to turn the clingfilm into wallpaper and house for the three bears. It's amazing, you blow me away Rainbows!
Term 3 Number learning - To explore the different ways to make 6, 7 and 8.
Term 3 - Measuring and learning about the language of short/shortest, tall/tallest, long/longest and highest.
Making Chinese rattle drums for Chinese New Year 2021- Year of the Ox.
Rainbows Nativity 2020 - Some images from the recording.
After we had a visit from the firefighters we built our own fire engine and put out our own 'real' fires!
This is our action story of 'The Little Red Hen' retold by Rainbows.
More of our learning about the Little Red Hen...Making our own bread and meeting 'Nash' the hen
Term 2 Learning Adventures so far...
More of our Term 2 Learning
We have been very keen to design, build and adapt our constructions in Rainbows. We have used many open ended resources such as bricks, blocks and gutters to construct houses, a bike wash and a very long ball track!
Over the last 2 weeks we have been learning about and celebrating the
Festival of Diwali and the story of Rama and Sita.
Here is just some of the activities we have been doing.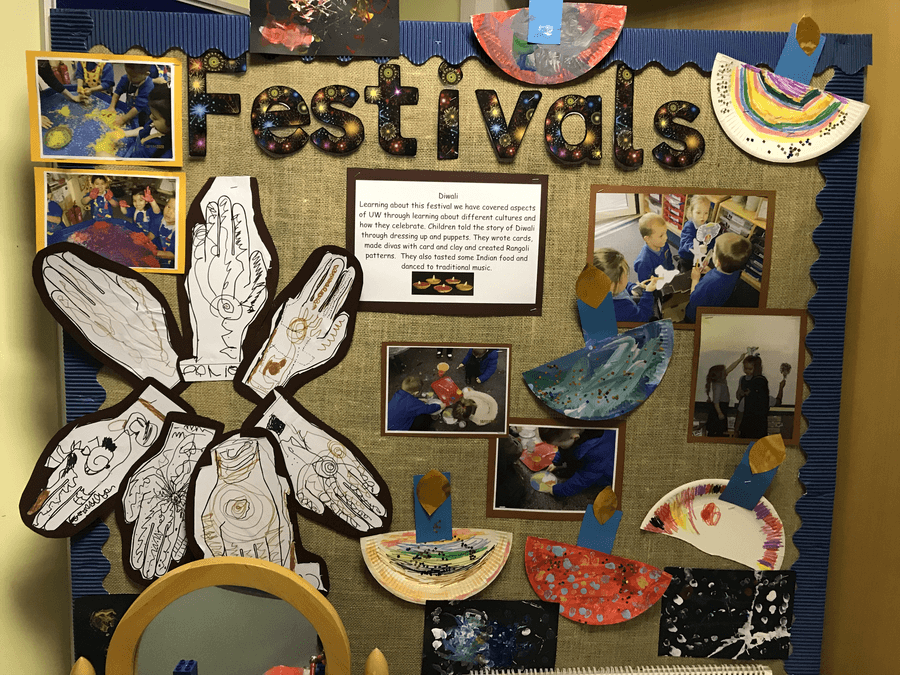 This week we have been learning to represent the quantity of 6 in different ways knowing that the total is the same!
Forest School fun - Toasting marshmallows and making our stick Christmas tree.
Over the last few weeks we have been so occupied with our learning. We have been busy writing letters to our friends and family in the post office, building and constructing and making vegetable vehicles.
Some of our amazing phonics work!
This sound mat and the videos below are to support you and your child in the way that we learn letter sounds in phonics.
The mat below helps the children remember the sounds and form the letters for writing.
This video shows you how to pronounce the sounds!
Our Rainbows Learning Environment
Key Messages
Forest School day is Wednesday morning. Children will need to bring in their own wellie boots for this and also for messy play in our garden that they can keep safely at school.
PE days will be Wednesday afternoon children need to come dressed in their PE clothes and stay in them all day.

If you would like to send a small bag with a change of clothes to keep at school in case of little accidents.

Water bottles are to be taken home each day, washed and returned to school every day.
Please write your child's name on all of their clothes and belongings.

(

shoes/coats/cardigans/sweatshirts/bags etc.) Please remember that we have 30 children, all in the same uniform!
Rainbow Bear hopes you find the homework fun!