The School Day
Update September 2020:
From September 2020 we will be following Government guidelines regarding 'drop off 'and 'pick up' times. We understand that this will be difficult in some cases, especially if you have siblings, but we can only emphasis that everything we do will be risk assessed in order to minimise the risk of transmission of the virus. Please see below for the new arrival and departure procedures.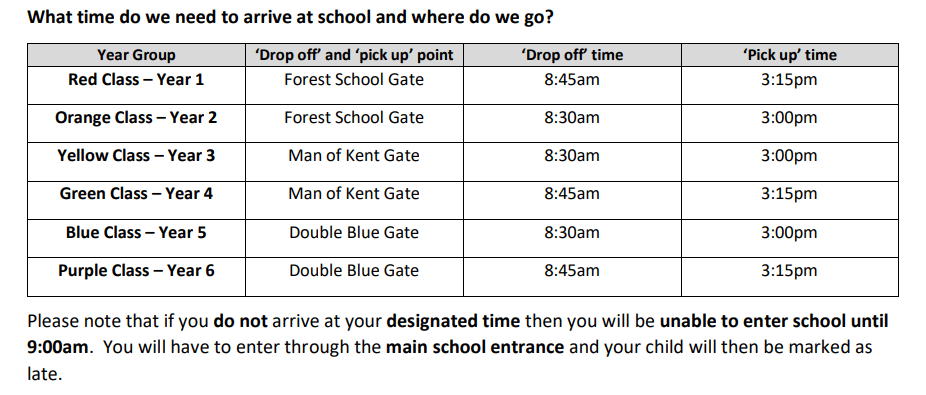 At St Margaret's at Troy Town, we know that children who attend regularly and arrive on time make good progress.
So that our children are ready to start their lessons promptly in the morning, they can come straight into school at 8:40am and the registers are taken at 8:50am ready for learning to begin at 9:00am.
Nursery:
08.40 to 08.50 Early Morning work
08:50 Register
09:00 Lessons begin
11:40 Home time for children
FS and KS1:
08.40 to 08.50 Early Morning work
08:50 Register
09:00 Lessons begin
10:30 to 10:45 Break time
10:45 to 11:45 Lessons
11:45 to 12:45 FS and KS1 lunch
12:45 Register and reading session
1:15 to 1:30 Worship
1:30 to 3:10 Lessons
3:10 to 3:15 Storytime and home time
3:15 Home time for children
KS2:

08.40 to 08.50 Early Morning work
08:50 Register
09:00 Lessons begin
10:30 to 10:45 Break time
10:45 to 12:15 Lessons
12:15 to 1:15 KS2 lunch
1:15 Register
1:15 to 1:30 Worship
1:30 to 3:15 Lessons
3:15 Home time for children
After School Clubs run from 3:15-4:30pm